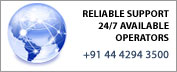 Zeetaa has implemented several custom application development solutions for medium and large size companies.
We bring exceptional value to clients through reduced cost of software development, outstanding quality, reliability and efficient customer service. We strive to provide lasting value by organizing and streamlining operations, maximizing revenue opportunities and providing competitive advantage.
Our custom application development projects are built on open, industry standard architectures made possible by enterprise component technologies like Microsoft.NET and Java, Document oriented technologies like XML, and integration technologies such as messaging tools and middleware.
Our Offering
Mr.T.K.C.Sekaran (President)
I believe in a company with a sense of maturity, that enjoys the spirit of a start-up, that provides the feeling of ownership, that enjoys success and celebrates teamwork.
Downloads
Projects Brochure