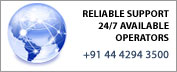 Our Project Management is built on a solid foundation of proven processes, usage of sound tools technologies and innovation. We consistently ensure that these three dimensions are managed well in achieving service excellence, leading to customer delight. At Zeetaa, all projects follow a well-defined project lifecycle.
Zeetaa follows a formal Software Development Lifecycle Methodology that has been proven over and over through the successful delivery of development projects on time, on budget and within scope. Zeetaa uses an iterative and evolutionary development method.
The quality of our services is monitored on a regular basis using Zeetaa's established Quality Review/Assurance Plan. Zeetaa believes that quality assurance begins during the planning process for a project and continues beyond the implementation.
Mr.T.K.C.Sekaran (President)
I believe in a company with a sense of maturity, that enjoys the spirit of a start-up, that provides the feeling of ownership, that enjoys success and celebrates teamwork.
Downloads
Download Corporate Brochure