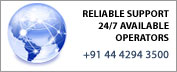 Zeetaa Oracle Apps Practice has delivered successful enterprise resource implementations. Our team of professionals delivers consulting and advisory services centered on the complete suite of Oracle's offerings. Our dedicated Oracle Practice has provided expert project management, application consulting, technical consulting, database administration support, and infrastructure support and sales for several Oracle customers.
Our expertise extends across the entire Oracle E-Business Application suite and includes
Impressive development capabilities.
Strong project management capabilities coupled with rich functional knowledge and technical expertise
Ability to accelerate implementation cycle to maximize time-to-market advantage
Ability to maintain reasonable consulting costs to maximize your ROI
Apart from right expertise and adequate infrastructure, Zeetaa has a proven track record in successful implementations and upgrades.
Our methodology is designed to maximize application availability and minimize downtime through the use of best-in-class automated monitoring and trouble-management tools.
We provide experienced resources to assist you with all technical aspects of a project. We guarantee delivery of technical expertise where and when you need it.
Our offering
Major Implementations
Finance and HRMS solutions for Government organization in Bahrain
Manufacturing, Distribution for a US Pump manufacturing company in India.
Financials for a hyper-market in Saudi Arabia
Financials and Distribution Modules for a large business group and its 18 subsidiaries in Saudi Arabia
Financials Customization for a large National Telecom Company in Saudi Arabia
Projects in Uganda, Nigeria, Kenya and UAE
Migration & Indian Localization for a leading Cycle manufacturer in India
Migration project for a big bank (From 11.0.3 to 11.5.10) in Saudi Arabia
Training for a SEI CMM Level 5 IT company in India
Training for a reputed Business School in India
Resource Provisioning for an Oil company in Africa
Mr.T.K.C.Sekaran (President)
I believe in a company with a sense of maturity, that enjoys the spirit of a start-up, that provides the feeling of ownership, that enjoys success and celebrates teamwork.
Downloads
Download Oracle Brochure