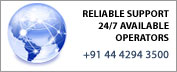 Zeetaa has adopted and implemented a Quality Process that assures quality products and services to its customers. This service methodology is comparable to CMM level 3-4 standards. All teams in the organization are trained in these processes and adhere to these highest international standards.
Mr.T.K.C.Sekaran (President)
I believe in a company with a sense of maturity, that enjoys the spirit of a start-up, that provides the feeling of ownership, that enjoys success and celebrates teamwork.
Downloads
Download Corporate Brochure