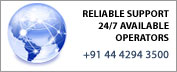 Creditable and accomplished management.
Pool of collective professional resources.
A fair list of well served satisfied clientele.
Established organization structure with close supervision.
Proper legal compliance and service level agreements.
An eye on costs.
Ability to ramp-up resources rapidly.
Access to industry and application subject matter experts.
Special emphasis on company culture, work ethics and personality.
Mr.T.K.C.Sekaran (President)
I believe in a company with a sense of maturity, that enjoys the spirit of a start-up, that provides the feeling of ownership, that enjoys success and celebrates teamwork.
Downloads
Download Corporate Brochure