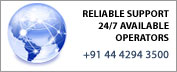 Successful track record with Fortune 1000 companies.
Excellent offshore development infrastructure in India.
Reduce operational cost.
Align IT investments with optimal business returns.
Free up time for internal resources to focus on new initiatives.
Proactive approach to problem identification and solving.
Mr.T.K.C.Sekaran (President)
I believe in a company with a sense of maturity, that enjoys the spirit of a start-up, that provides the feeling of ownership, that enjoys success and celebrates teamwork.
Downloads
Download Corporate Brochure